Well, I've had a some of the cutest little girls in this month so I'm having fun sharing all of their fun, fru-fru pix!!
Here's a little 3M old doll baby, Miss J, in a bed of roses!!
Isn't she beautiful in her pink!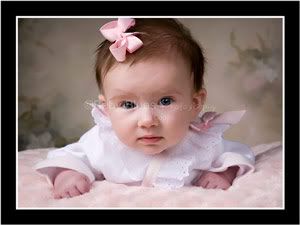 I just love this close-up of her!
Here is Miss A in for her 9M session. She just keeps getting prettier and prettier!
Everbody is loving the snow!! And how cute is this!
In her gorgeous dress!
And now Miss G! She was a fast one at only 7M!! I know mom had to have been amazed by all of the gorgeous shots of her. She keeps her mommy on her toes!! But she was super sweet and a big THANK YOU for big sis helping out!