This is the start of Kylie's 3Y portraits. I plan to do these in baby steps because she doesn't last very long in front of the camera. I've ruined her!! LOL!! Landon always loved the camera and was a ham; but she runs away and runs fast!
My vision was Kylie in a field. I didn't care what grew there as long as it was brown and tall. I had my mother-in-law keep watch for a field on her way to visit us last weekend; but she just didn't see anything. Well, Monday morning, I'm opening my curtains and guess what I "see"!! Right outside my back door is my field! Silly me! It was right in front of me all along. Now, if you saw this field, you would think I was nuts because it isn't much to look at; but it goes to show you how beautiful images can be in the ugliest of places.
These were my favorites. With all of the bugs and our Louisiana heat, I had to work fast!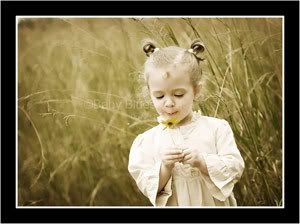 Aren't the flowers gorgeous!