This is a special little client of mine and I feel the need to share her story. She has a rare form of childhood cancer known as Retinoblastoma. Although, it's rare, I feel that in my early career as a photographer if one of my clients has been diagnosed with it, then it's worth informing more parents of this serious disease. You can actually check for it yourself by taking a flash photograph of your child in dim lighting. There are many informative websites if you google retinoblastoma and they even have examples of what to look for in photographs. You might even remember the story last year of 2 moms who became friends over an internet forum. The lived in different continents; but the one mom was able to warn her friend of the potential danger just by seeing her snapshots that were shared on the forum. If you didn't see the story, you can read about it from the Today show
here
.
Little Miss A's mom had seen the story last year and became concerned after seeing her snapshots of A. She immediately sought a doctor who then sent them directly to St. Jude. She is now being treated for not one tumor; but 3 tumors - one in one eye and 2 in the other. Please keep your thoughts with her and her family as they undergo chemo and other treatments. Her prognosis of beating the cancer is good; but she will most likely lose some of her eyesight.
Please enjoy these photos of Miss A and take note of the snapshots at the bottom that caused her mom to be concerned.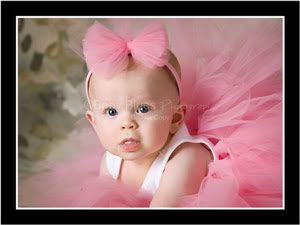 Doll Baby finish
These are the snapshots that raised concern for her mommy.